Welcome to FranTV.com - "FranTV Franchise Television" is the first small business television show to be broadcast directly to over 250 Million Mobile Devices and Smart-TVs using its own Interactive App!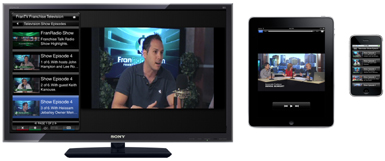 Download it from the Apple App Store here:

http://itunes.apple.com/us/app/frantv-franchise-television/id527086984

The FranRadio Franchise Show is a nationally televised call-in radio show that is rebroadcast nationally on Television, Cable, and the Internet in a unique, edgy, interactive format.
The show is produced, hosted, and broadcast by entrepreneurs for entrepreneurs. Over 10% of all businesses in the US are Franchises. FranTV is a television show developed just for the Franchising community of small business owners and operators.

FranTV Franchise Television delivers an entertaining reality television show using a talk radio format that showcases people creating and growing their own successful small businesses.